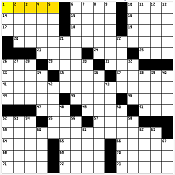 Since my previous two posts this week have been about as exciting as a tooth extraction, I thought I'd point out the completely fun, yet simple crossword puzzles you can find on various reference and dictionary sites. While there's nothing too novel about doing online crossword puzzles (they've been helping me waste time for years now), I still find that it captivates many students, especially those that are turned off by all the erasing and puzzle-ruining mistakes that are made on paper crosswords. The ability to instantly correct an error by simply clicking the backspace key, or replacing a word that obviously doesn't work because the answer to #5 down can't possibly be "suppir" can transform many of the "it must be perfect" students and the "I never get anything right" students into students that are a little more willing to make mistakes.
Crossword Puzzles at Dictionary.com
I've mentioned Dictionary.com twice already this week as it's a site that gets heavy work out in my classes. While I have yet to use their crossword puzzles with students, I play them occasionally myself as they are by far the easiest to fill out and navigate. You can move between across and down with just a double click of the mouse, and if you make a mistake (this is the best part) it highlights the offending letters in red. Of course, that's on the Regular Skill level. The Master's Skill level does not provide any indication of wrong letters, and does away with the "Solve" button. The other standout feature is that each clue is highlighted at the top of the puzzle while you're working on it. Click on a new box and the clue for that box is not only highlighted on the side of the puzzle, but it's also written across the top of the puzzle. Minor details, but a nice tool to help students that might need the extra visual cues. The puzzles unfortunately are best left for middle or high school, as elementary students would be well out of their vocabulary range (unless of course you are providing some extension activity time).
FactMonster Xwords Archive
I tried to find this hidden gem by navigating the categories and Games area on the FactMonster website, but to no avail. I finally had to just do some URL hacking to get to it, but the FactMonster Crossword Archive has a LOT of fun and quick crossword puzzles aimed specifically at grade school kids. Everything from Martin Luther King Jr. themed puzzles to "The Lion, the Witch, and the Wardrobe" themed puzzles. There's also a link to the daily puzzle in case you deem it worthy enough to be used as an anchor activity. FactMonster puzzles are much more forgiving on the users, with a "Check" button and a "Solution" button. Just like the Dictionary.com crossword puzzle, it lets you switch from across clues to down clues with simple double click on a square.
As I said before, there's nothing particularly ground breaking, novel, or ingenious with using these online crossword puzzles in your classroom, but too often I see classrooms where teachers let their students use the two or three classroom computers for reading tests and nothing else. Something as simple as having one of these crossword puzzles up during the day would be a great incentive for getting work down early, or provide an escape for students that need a break or an engaging way to work on vocabulary. If anyone else has fun, useful puzzle sites I'd love to hear about them.