Yes, I know, maps don't actually teach learners new content. However, they do allow learners to connect locations and places with what they may be learning in the classroom. Every once and awhile it's also fun for students (and us educators) to sit down and try to put the right states/countries in the right place on the map. And of course, it's nice to have a reference map for students to quickly find a capitol or a country name. Maps that Teach, a groovy little site that was pointed out by one of my district's helpful technology specialists, is a site that allows for that fun, while providing a nice reference.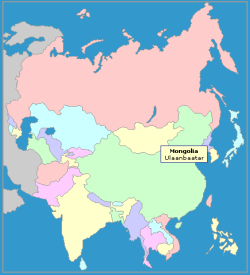 The screen-shot I took above is just one sample of the maps on the site. By simply rolling the mouse over the country or state, you see the name and the capitol. Highly useful for younger students that are easily confused by all of the place names on Google Maps. It doesn't show where the capitols are located, which is a shame, but it's a decent starting point. There are also plenty of puzzle maps, where you can practice placing the states and countries in their proper location on the map. There are timers on the puzzles so you can see how it long it takes you, for those students that simply craze the competitiveness of geo-locating 🙂
If these maps aren't what you're looking for, you might want to check out some more Map Websites that I wrote about a couple of years ago.